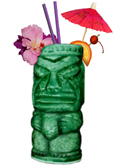 Tiki King's
Virtual Bartender
Samoan Fog Cutter


1.5 oz light rum
1/2 oz
Orgeat Syrup
2 oz Lemon juice
1 oz Orange juice
1/2 oz Dry Gin
1/2 oz Brandy
1/4 oz Sweet Sherry
Blend all except sherry with 1 scoop
of shaved ice. Pour into tiki Mug or
Hurricane glass. float the sherry on top.
Garnish with fresh mint sprig. Shake well with ice,
strain into Cocktail glass
and serve
Back to
Tiki King's virtual bartender
at:
www.tikiking.com
Because someone,
somewhere,
needs a Cocktail right now...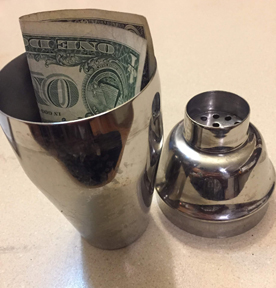 Like what we are doing?
Your generous donations
Help keep the bar stocked,
and the pop-up ads absent!
Don't like PayPal? I am also on Venmo! @Tiki-King